Image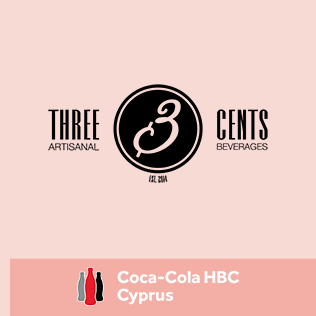 Stand 132: THREE CENTS Premium Mixers & Soda Beverages – Coca-Cola HBC Hellenic Cyprus
Three Cents Artisanal Beverages were founded in 2014 by a group of forward-thinking bartenders in search of the perfect cocktail mixer. Every product is uniquely designed to deliver maximum flavor and carbonation to each drink. The easiest way to always create the most flavored and balanced drinks, within seconds.
We use natural ingredients, no preservatives and no artificial colorings. Three Cents point of difference lies in the process of being carbonated at maximum pressure and using a lower temperature to produce particularly bubbly sodas offering maximum flavor and long-lasting effervescence - a much sought-after quality by bartenders.
Α product that balances the ingredients of a cocktail or a long drink, while bringing out its flavors and aromas and still maintain its fizziness.
Three Cents premium Tonic and Soda Beverages are inspired by the late 19th century soda fountain culture and artisanal production. That was the time of 'Great Depression' in America when soda bars became popular. During that period, soda fountains created soft drinks based on carbonated water, as it was the cheapest drink anyone could ever get at a value of two cents and therefore it was called Two Cents Plain. When a flavored syrup was added to that drink, its price was set to Three Cents and that's where the name of Three Cents was inspired from.
Company's portfolio consists of 2 Lines, the Signature Line with 11 variants and the Zero Sugar Line with 4 variants.