Image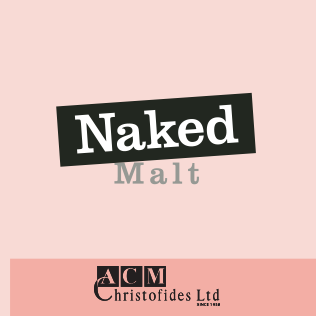 Stand 131: Naked Malt - ACM Christofides Ltd
Naked Malt is a blended malt whisky produced in Scotland by ultra-premium spirits company Edrington. The 40% abv liquid comprises a selection of Scotland's finest single malts, including The Macallan, Highland Park and Glenrothes.
It is matured in first-fill Oloroso sherry oak casks and it is from these "naked" casks that have never held whisky before that Naked Malt takes its name and its distinctive flavor. As they've never held whisky before, this imparts the best flavor and cask character, to create a distinctive taste that's rich and fruity, yet versatile for any preferred serve.
Award-winning Naked Malt has been announced as an official sponsor of The World's 50 Best Bars in a move that sees the brand become the prestigious guide's only Scotch whisky partner for the next years.
https://www.facebook.com/nakedmalt
ACM Christofides Ltd is an innovative industry leader in the import and distribution of premium spirit brands, world class whisky and exceptional wines and liquors for the Cyprus market.
The company maintains an extensive portfolio that includes globally renowned and highly awarded brands like The Famous Grouse, The Macallan, The Naked Grouse, Thomas Henry, Giffard, London No3, Martin Miller's Gin, Bobby's Gin, Tito's Handmade Vodka, Equiano Rum, Lyre's nonalcoholic spirits; a plethora of respected wine labels like Ferrari, Ramon Bilbao and Gancia, and an envied portfolio of Belgian beers including Duvel and Chimay.
With a distinguished history that began in the 1930s, this family business continues as one of the country's most acclaimed distributors of a broad range of drinks categories. In fact, ACM is the oldest distributor of The Famous Grouse outside of the United Kingdom, with the highest per capita consumption from all markets.
ACM Christofides Ltd
http://www.acm.com.cy/
25ης Μαρτίου Νο.6, 2232 Λατσιά, Λευκωσία
TEL: 22 679000
[email protected]