Image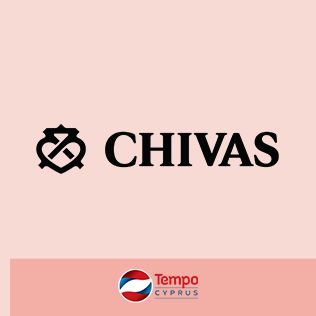 Stand 045: Chivas Regal Whisky – Tempo Beverages Cyprus Ltd.
Since the foundation of the house of Chivas in 1801, in Aberdeen, Scotland, the brothers John & James Chivas, the pioneers in the art of sorting and mixing of many aged malt and grain whisky, offered to their customers the finest products. Refining the art of blending, Chivas brothers created an excellent whiskey, combining in a unique way the finest aged & rare whiskies in Speyside, Scotland. The result was a gentle and generous in flavor whiskey, unique compared to the respective of that period.
The spirit and heart of Chivas Regal meets at Strathisla, the historic distillery in Speyside, the oldest in operation of the Highlands and perhaps the most beautiful. Where the knowledge and tradition of Chivas house passed from generation to generation and are still kept carefully up to date, ensuring that the high quality and stable character will remain unalterable and identical in every bottle over time.
The Chivas Regal 12, 18 and 25 Year Old, each one has their own unique recipe of rare whisky options that make a unique dining experience. Every Chivas Regal bottle is a creation of a skilful whiskey makers group and a t that counts more than two centuries!
---
TEMPO BEVERAGES CYPRUS LTD
TEMPO BEVERAGES CYPRUS LTD, has been active in the Cyprus market since 2017 and is the subsidiary of TEMPO Israel.
TEMPO BEVERAGES CYPRUS LTD is the official distributor of global wine and spirits groups, such as Pernod Ricard, Beluga, Bottega SpA, Halewood, Maison Ferrand, Whyte & Mackay and Michter's.
It is also the official distributor of HEINEKEN Group beers, Paulaner beer, HUMOR Cypriot beer, as well as local wineries (Kamanterena,  Aes Ambelis), along with a wide range of international wine brands.
TEMPO BEVERAGES CYPRUS LTD, has now established itself as one of the most important and experienced companies in its field, aiming to manage a wide portfolio covering all categories of beverages.
TEMPO BEVERAGES CYPRUS LTD
Tel:  +357-2505330
Fax: 25053370
Email: [email protected]