Image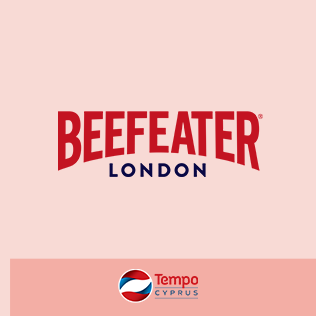 Stand 025: BEEFEATER Gin – Tempo Beverages Cyprus Ltd.
BEEFEATER
One London distillery, nine stills and as many botanicals make The World's Most Awarded Gin, under the supervision of the world's most experienced Master Distiller, Desmond Payne.
A quintessential London Dry Gin, Beefeater has a remarkably clean flavour, with a bold juniper character that is balanced with strong notes of citrus.
Based on Founder, James Burrough's original 19th century recipe, the botanicals in Beefeater London Dry are steeped for 24 hours prior to distillation resulting in a complex, yet perfectly balanced gin of depth & integrity.
With over 200 years' distilling heritage, Beefeater Gin was born and bred in the heart of London, where it remains today, as the only historic dry gin still distilled in the city.
https://www.beefeatergin.com/en-EN
---
TEMPO BEVERAGES CYPRUS LTD
TEMPO BEVERAGES CYPRUS LTD, has been active in the Cyprus market since 2017 and is the subsidiary of TEMPO Israel.
TEMPO BEVERAGES CYPRUS LTD is the official distributor of global wine and spirits groups, such as Pernod Ricard, Beluga, Bottega SpA, Halewood, Maison Ferrand, Whyte & Mackay and Michter's.
It is also the official distributor of HEINEKEN Group beers, Paulaner beer, HUMOR Cypriot beer, as well as local wineries (Kamanterena,  Aes Ambelis), along with a wide range of international wine brands.
TEMPO BEVERAGES CYPRUS LTD, has now established itself as one of the most important and experienced companies in its field, aiming to manage a wide portfolio covering all categories of beverages.
TEMPO BEVERAGES CYPRUS LTD
Tel:  +357-2505330
Fax: 25053370
Email: [email protected]