Image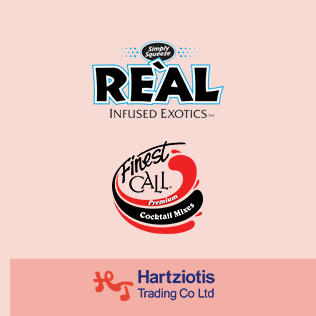 Stand 020: Real Infused Exotic, Finest Call - Hartziotis Trading Co Ltd
Real Infused Exotic
Real Infused Exotics is pushing the boundaries of the mixology movement with a premium product line unlike any other. With sourced fruit from the finest growing regions and a styling and easy to use package. Our syrups are the only puree infused syrups on the market and can be used as a core ingredient in cocktail creations and in culinary recipes.
Finest Call 
For the last 20+ years, Finest Call has worked tirelessly to create a line of premium cocktail mixers that bartenders everywhere can trust. To create the best cocktail mixers, we start with the best ingredients. We've scoured the globe to identify and select only the most renowned varieties of fruit.
Everything we do is designed so those behind the bar can focus on what they do best: crafting incredible cocktails and mixed drinks with minimal hassle and guaranteed consistency.
---
Hartziotis Trading is a family business that was established in 1983 as an importing and distribution company. The company's product portfolio consists of great brands. For the import and distribution of these brands the company has an exclusivity agreement with all its partners. The company has its owned warehouse and distribution fleet. The warehouse and offices are located in the Nisou Industrial Area in Nicosia.
At Hartziotis Trading we have managed to create a lean organization that is capable of adapting to the daily challenges of the dynamic environment of the food & beverages market in Cyprus. On a daily basis we focus our efforts to satisfy our customers' needs through the quality of service and support we provide.
Hartziotis Trading Co Ltd
Tel. 22461090
Email: [email protected]


Offices & Distribution Center Address:
Αλυκού Ποταμού 8, Βιομηχανική Περιοχή Νήσου, 2540 Δάλι, Λευκωσία