Image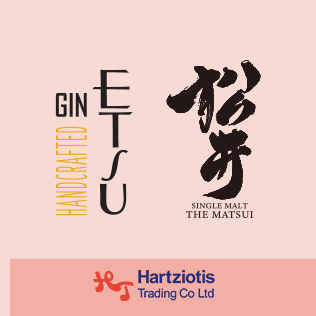 Stand 019: Etsu Gin, Matsui Whisky, Samurai Sake - Hartziotis Trading Co Ltd
Etsu Handcrafted Japanese Gin
Etsu is one of the top Nippon gins on the market. Etsu means 'pleasure' in Japanese. This gin is produced by the Asahikawa distillery in Hokkaido to an ancient Asian recipe that requires various herbs, spices, and citrus fruits, some of which can only be found in Asia. What makes our very floral Etsu special is the lingering notes of orange peel and yuzu, a yellow citrus fruit very popular in Asia.
Etsu Pacific Ocean Water Gin
Etsu Pacific Ocean Water Gin is distilled at Asahikawa Distillery in Hokkaido. Fresh water from the mountain source and sea water from the Sea of Japan are added to carefully selected botanicals, such as juniper berries, bitter orange peel, liquorice root, angelica and coriander to produce this unique gin, which captures the Japanese coast line in a bottle.
Etsu Double Yuzu Gin
Etsu Double Yuzu Gin is distilled at the Akita Distillery, in the Akita prefecture of Japan in the Honshu Island. Akita Prefecture is located on the coast of the Sea of Japan and extends east to the Ōu Mountains, the longest mountain range in Japan. It is these mountains that Etsu Double Yuzu take its fresh and light aromas from.
Matsui Single Malt Whiskies
MATSUI WHISKIES are made by Matsui Shuzo at the Kurayoshi distillery. The distillery is in Tottori prefecture in the southern part of Honshu island, known for its sand dunes. The distillery's geographic location means that it can take advantage of pure ground water from Mount Daisen. The distillery produces three different whiskies:  the 'The Kurayoshi Pure Malt', 'The Tottori Blended' and 'The Matsui Single Malt', paying tribute to Japanese culture and its 'Ukiyo-e' artform.
Samurai Sake
Samurai Junmaï Daiginjo is the top grade of Sake, Best in Class and Asahikawa brewery's best offering, with each grain of rice that must be milled to at least 50% removal and 50% remaining. Samurai Saké delivers a beautiful taste with acidity and Umami.
 
---
Hartziotis Trading is a family business that was established in 1983 as an importing and distribution company. The company's product portfolio consists of great brands. For the import and distribution of these brands the company has an exclusivity agreement with all its partners. The company has its owned warehouse and distribution fleet. The warehouse and offices are located in the Nisou Industrial Area in Nicosia.
At Hartziotis Trading we have managed to create a lean organization that is capable of adapting to the daily challenges of the dynamic environment of the food & beverages market in Cyprus. On a daily basis we focus our efforts to satisfy our customers' needs through the quality of service and support we provide.
Hartziotis Trading Co Ltd
Tel. 22461090
Email: [email protected]


Offices & Distribution Center Address:
Αλυκού Ποταμού 8, Βιομηχανική Περιοχή Νήσου, 2540 Δάλι, Λευκωσία