Image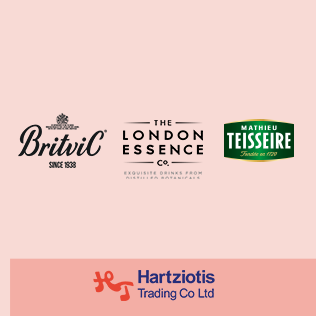 Stand 018: Britvic, London Essence, Teisseire - Hartziotis Trading Co Ltd
Britvic Mixers
Britvic's mixers and juices have been produced in the UK for over 8o years. Our long-standing UK commitment is an integral part of the brand and is the reason we are renowned as a quality product, trusted worldwide. Britvic holds a prestigious Royal Warrant appointed by HM The Queen, which means it is the fruit juice and soft drinks supplier of choice for the Royal Households. This is highlighted on the Britvic label with the Royal Arms proudly displayed
The London Essence Co
Exquisite mixers from distilled botanicals At London Essence, we love to reinvent and reimagine, much like the city we call home. Our luxury mixers are made with distilled botanicals, for the purest flavor in every sip. The elegant tonics, crafted sodas and delicious gingers will breathe new life into your rituals. Create, refresh, and enjoy at any time, whether it's a light G&T or something a little more adventurous, at London Essence we believe the bar is wherever you make it.
Mathieu Teisseire Syrups
Our promise is to create the best tasting syrups that deliver true flavor, and our passion is for product excellence. Born of innovation, Teisseire leads the way in delivering new flavor experiences, developing great tasting syrups to transform your drink into a little moment of pleasure in your day.
Made in France in the heart of the French Alps, using water which is naturally filtered, untreated and free of any chemical contaminants. Mathieu Teisseire's unique blend of two sugars (sucrose and glucose-fructose syrup), creates a balanced taste which mixes perfectly in hot and cold drinks. By using the highest quality ingredients and a high concentration of fruit (38% total fruit), our Flavor Masters achieve flavor profiles, which are as close to the real thing as possible.
 
---
Hartziotis Trading is a family business that was established in 1983 as an importing and distribution company. The company's product portfolio consists of great brands. For the import and distribution of these brands the company has an exclusivity agreement with all its partners. The company has its owned warehouse and distribution fleet. The warehouse and offices are located in the Nisou Industrial Area in Nicosia.
At Hartziotis Trading we have managed to create a lean organization that is capable of adapting to the daily challenges of the dynamic environment of the food & beverages market in Cyprus. On a daily basis we focus our efforts to satisfy our customers' needs through the quality of service and support we provide.
Hartziotis Trading Co Ltd
Tel. 22461090
Email: [email protected]


Offices & Distribution Center Address:
Αλυκού Ποταμού 8, Βιομηχανική Περιοχή Νήσου, 2540 Δάλι, Λευκωσία