Image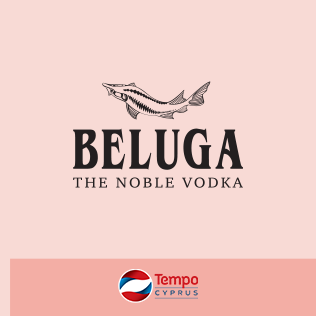 Stand 014: Beluga Noble Vodka – Tempo Beverages Cyprus Ltd.
Beluga Vodka is handcrafted by true masters. Artistry, craftsmanship and excellence are reflected in every single bottle. Beluga's precise distillation process, malt spirit and pure artesian water make for an extraordinary taste that is both smooth and luxurious.
After the filtration stage, Beluga is left to 'rest' for 30+ days (exact time depends on the sub brand). Such method helps to improve further the spirit and enhance the soft flavor of Beluga Vodka. Every single bottle, made of optical glass, is decorated with the brand's legendary symbol — a little tin beluga fish, attached by hand.
https://www.vodka-beluga.com/en
---
TEMPO BEVERAGES CYPRUS LTD
TEMPO BEVERAGES CYPRUS LTD, has been active in the Cyprus market since 2017 and is the subsidiary of TEMPO Israel.
TEMPO BEVERAGES CYPRUS LTD is the official distributor of global wine and spirits groups, such as Pernod Ricard, Beluga, Bottega SpA, Halewood, Maison Ferrand, Whyte & Mackay and Michter's.
It is also the official distributor of HEINEKEN Group beers, Paulaner beer, HUMOR Cypriot beer, as well as local wineries (Kamanterena,  Aes Ambelis), along with a wide range of international wine brands.
TEMPO BEVERAGES CYPRUS LTD, has now established itself as one of the most important and experienced companies in its field, aiming to manage a wide portfolio covering all categories of beverages.
TEMPO BEVERAGES CYPRUS LTD
Tel:  +357-2505330
Fax: 25053370
Email: [email protected]