Image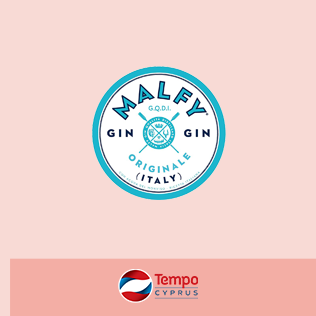 Stand 013: MALFY Gin – Tempo Beverages Cyprus Ltd.
Malfy Gins are made in Italy using the finest ingredients including handpicked juniper, Italian Lemons and a selection of Sicilian Pink Grapefruits and Sicilian Blood oranges. These are steeped in alcohol before cold-distillation to keep the botanicals fresh and flavorful and then artfully blended with Italian water from the Piedmont region in North-West Italy.
---
TEMPO BEVERAGES CYPRUS LTD
TEMPO BEVERAGES CYPRUS LTD, has been active in the Cyprus market since 2017 and is the subsidiary of TEMPO Israel.
TEMPO BEVERAGES CYPRUS LTD is the official distributor of global wine and spirits groups, such as Pernod Ricard, Beluga, Bottega SpA, Halewood, Maison Ferrand, Whyte & Mackay and Michter's.
It is also the official distributor of HEINEKEN Group beers, Paulaner beer, HUMOR Cypriot beer, as well as local wineries (Kamanterena,  Aes Ambelis), along with a wide range of international wine brands.
TEMPO BEVERAGES CYPRUS LTD, has now established itself as one of the most important and experienced companies in its field, aiming to manage a wide portfolio covering all categories of beverages.
TEMPO BEVERAGES CYPRUS LTD
Tel:  +357-2505330
Fax: 25053370
Email: [email protected]