Image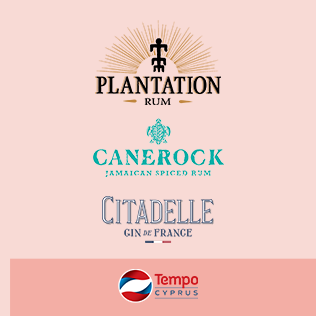 Stand 010: Plantation Rum – Tempo Beverages Cyprus Ltd.
PLANTATION RUM
Passionate, curious, with a refined taste for beauty, Alexandre Gabriel is a tireless entrepreneur in search of perfection.
Back in the 1990s, Alexandre Gabriel decides to sell some of his cognac casks to other producers, notably rum producers. The Caribbean and Latin American are now on his radar. Soon the region reveals dozens of unique and fascinating rum expressions that captivate the rum-maker's attention. Each island brings its own discoveries.
At that moment he knew, that he could perfect the methods of aging in wood casks - that he knew so well from producing Cognac - and Voila! The idea for Plantation rum is launched. Plantation is an artisanal range of rums from the great terroirs of the tropics. The name Plantation aims to reflect the major terroirs and cultures of rum.
Fifteen years of dedicated rum-making later, in 2012, Alexandre is awarded Master Rum Blender of the Year at the Golden Rum Barrel Awards and was named Distiller of the Year by The American Distilling Institute. He now spends several months a year in the Caribbean combing for treasure:  the best rum barrels he can find that express the individual terroirs that made them. 
https://www.plantationrum.com/
 
CANEROCK SPICED RUM
Home of venerable sea turtles, tiny humming birds, giant butterflies, the majestic Blue Mountains, native orchids and mangrove trees, Jamaica also produces the world's greatest rums.
Made from traditional Jamaican rums, infused with natural spices and aged in oak casks, Canerock Jamaican Spiced Rum has a rich and unique character, with sweet vanilla notes, dry fruits and delicate oak tannins.
Canerock Spiced Rum is a blend of traditional rums, from two legendary distilleries that have defined Jamaican rum for centuries. Clarendon and Long Pond, continue to proudly represent the diversity of Jamaican rums. Between them, these two legendary production facilities share centuries of savoir-faire in fermentation, pot and column still distillation, blending and ageing techniques.
Long fermentations and traditional pot still distillation, produces rums with an unmistakable 'funky' profile. Such unique, traditional Jamaican methods, give Canerock its distinctive character.
Canerock Jamaican Spiced Rum, can be enjoyed neat, on the rocks or mixed.
CITADELLE GIN
The south-west of France has it all: the sun, the sea, the countryside…and the château de Bonbonnet, home of Citadelle Gin! Therefore, Citadelle is a "gin de Château" par excellence.
Juniper trees grow wild across from the château. Their berries gave the founder, Alexandre Gabriel an idea: to create the first modern French gin. It was a crazy idea back in 1996, the year Citadelle Gin was born!
There are 19 botanicals, including lemon and many delicious exotic spices. For the aromatics to deliver all their flavors, infusion time and temperatures must be individually adapted to each botanical. This is called progressive infusion and it is how Citadelle gin achieves its perfect balance.
Created by Alexandre Gabriel for Citadelle Gin, this original process allows each flavor in the gin to be infused according to its aromatic composition. The effectiveness of the meticulous process has been scientifically proven, and a patent granted to Alexandre Gabriel's development of this exclusive technique.
To this day, it is the only patent ever granted for a method of infusing gin. Not bad, right?
---
TEMPO BEVERAGES CYPRUS LTD
TEMPO BEVERAGES CYPRUS LTD, has been active in the Cyprus market since 2017 and is the subsidiary of TEMPO Israel.
TEMPO BEVERAGES CYPRUS LTD is the official distributor of global wine and spirits groups, such as Pernod Ricard, Beluga, Bottega SpA, Halewood, Maison Ferrand, Whyte & Mackay and Michter's.
It is also the official distributor of HEINEKEN Group beers, Paulaner beer, HUMOR Cypriot beer, as well as local wineries (Kamanterena,  Aes Ambelis), along with a wide range of international wine brands.
TEMPO BEVERAGES CYPRUS LTD, has now established itself as one of the most important and experienced companies in its field, aiming to manage a wide portfolio covering all categories of beverages.
TEMPO BEVERAGES CYPRUS LTD
Tel:  +357-2505330
Fax: 25053370
Email: [email protected]