Image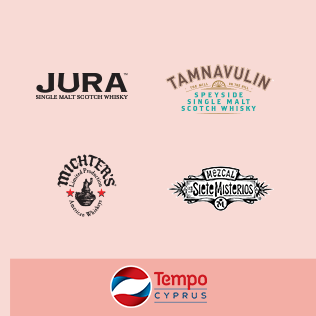 Stand 009: Jura Single Malt Scotch Whisky – Tempo Beverages Cyprus Ltd.
JURA SINGLE MALT SCOTCH WHISKY
There's more to Jura Single Malt Whisky than water, barley and yeast. Jura is where you'll find a community of 212 people along with ancient landscapes of wild mountains, next to peaceful lochs surrounded by stormy seas. And with just one road, one pub, one whisky distillery and a very distinct micro-climate, it's not the easiest place to make the UK's number one Single Malt Scotch Whisky, but it's definitely one of the best!
Inspired by its history and its island home, Jura's tiny island community makes this single malt whisky with a true passion for the craft.
Jura's great collection of unique whiskies, are smooth, bright and lively, just like the tiny island community who make them.
TAMNAVULIN SINGLE MALT SCOTCH WHISKY
Tucked away on the edge of the River Livet, the small group of skilled, time-served craftsmen and women at Tamnavulin Distillery began creating the signature Speyside malt over 50 years ago using the finest ingredients combined with age-old distilling expertise and sophisticated techniques.
Tamnavulin's story began in 1966 with the opening of the distillery in the rural village of Tomnavoulin, Scotland. Although the doors were closed in 1995, they reopened in 2007 after a major distillery refurbishment. Since then, they've crafted exceptional single malt whisky with a true Speyside character; rich, smooth and mellow.
MICHTER'S WHISKEY
Named after one of, if not the oldest distillery in the United States, Michter's offer a range of excellent American whiskeys. From the refill-cask-aged unblended American whiskey to the 25 year old bourbon, there's something for everyone, with young and old bourbon and rye, as well as whiskeys which focus on the casks used for maturation.
Originally known as Shenk's and later as Bomberger's, this whiskey company ultimately became known as Michter's. It was founded by John Shenk in Schaefferstown, Pennsylvania, in 1753. In the mid-1800s, Pennsylvania Dutchman Abraham Bomberger bought the distillery and it was then known for many decades as Bomberger's. After changing hands many times over the course of Prohibition, eventually Lou Forman created the Michter's brand name by combining his sons' names, Michael and Peter. Though sadly, the distillery closed in 1989 due to bankruptcy. However, Michter's prevails!
Joseph Magliocco and Richard Newman joined forces, both men with a passion for whiskey. After filing for the abandoned Michter's trademark, they planned to resurrect Michter's in the heart of the modern American whiskey industry, Kentucky. Their current historic Fort Nelson site was first built in 1890 and purchased by Michter's in 2012, after years of restoration the site opened to the public in February 2019. As well as their Fort Nelson site, the company owns Michter's Shively Distillery in Louisville, as well as its 145-acre farm in Springfield, Kentucky.
LOS SIETE MISTERIOS MEZCAL
Inspired by the passion, traditions, and culture of their native Mexico, brothers Eduardo and Julio Mestre founded Los Siete Misterios in 2010 with the goal of making a Mezcal that represents the customs, culture, and passion of Mexico.
Eduardo and Julio spent years sampling Mezcal from villages across Oaxaca. They met local Maestro Mezcaleros who use traditional techniques honed over generations. In an effort to preserve this ancestral knowledge, Eduardo and Julio teamed up with Maestro Mezcaleros to collaborate on a contemporary approach to traditional Mezcal.
Beginning with highest quality agave plants, Los Siete Misterios follows ancestral methods including cooking in underground ovens, milling with wooden mallets, and often distilling with hand-made clay pots. This allows Los Siete Misterios to pursue its goal of respecting Mezcal traditions and customs while supporting local Mexican workers.
https://www.sietemisterios.com/
---
TEMPO BEVERAGES CYPRUS LTD
TEMPO BEVERAGES CYPRUS LTD, has been active in the Cyprus market since 2017 and is the subsidiary of TEMPO Israel.
TEMPO BEVERAGES CYPRUS LTD is the official distributor of global wine and spirits groups, such as Pernod Ricard, Beluga, Bottega SpA, Halewood, Maison Ferrand, Whyte & Mackay and Michter's.
It is also the official distributor of HEINEKEN Group beers, Paulaner beer, HUMOR Cypriot beer, as well as local wineries (Kamanterena,  Aes Ambelis), along with a wide range of international wine brands.
TEMPO BEVERAGES CYPRUS LTD, has now established itself as one of the most important and experienced companies in its field, aiming to manage a wide portfolio covering all categories of beverages.
TEMPO BEVERAGES CYPRUS LTD
Tel:  +357-2505330
Fax: 25053370
Email: [email protected]