Image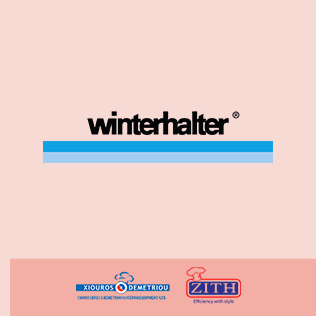 Stand 001: Winterhalter
Η Winterhalter ιδρύθηκε το 1947 από τον Jurgen Winterhalter στο Friedrischafen της Γερμανίας. 

75 χρόνια και 3 γενιές μετά δραστηριοποιείται ως ηγέτης στην παγκόσμια αγορά με παρουσία σε 50 χώρες από' όλο τον κόσμο και πάνω από 2000 εργαζόμενους. Οι λύσεις είναι μοναδικές καινοτόμες και αποτελούν σημείο αναφοράς για πολλά εστιατόρια, ξενοδοχεία και μπαρ σε όλο τον κόσμο. Το σύστημα πλύσης της εταιρείας μας αποτελείται από ανεπτυγμένα τεχνολογικά πλυντήρια, εξειδικευμένα απορρυπαντικά, επεξεργασίες νερού και κατάλληλες μπασκέτες πλύσεις. Μέσα από το ολοκληρωμένο αυτό σύστημα, στόχος μας είναι άριστα αποτελέσματα πλύσης, χαμηλά λειτουργικά έξοδα, μειωμένη ενεργειακή κατανάλωση και λειτουργικά σχεδιασμένους χώρους. Τέλος η οικογενειακή κουλτούρα που επικρατεί στην εταιρεία μας έχει στόχο και μόνο την κάλυψη και την ικανοποίηση των αναγκών του πελάτη.
 
For more info: www.winterhalter.biz
Follow us on Social Media
https://www.facebook.com/wintehaltergreececyprus
https://instagram.com/winterhalter_greece

Στοιχεία επικοινωνίας Greece & Cyprus
tel:  +30 6980644444, 
email: [email protected]
email: [email protected]

Winterhalter Gastronom GmbH
Commercial Dishwashing Systems
website: www.winterhalter.biz
Winterhalter Str 2-12
88074 Meckenbeuren/Germany
Mob.: +30 6980644444
E-Mail: [email protected]
Zinth
Since 1983, Zith company offers a complete solution in catering equipment as importers, distributors and manufacturers for the HoReCa sector in Cyprus.
AS manufactures of stainless steel constructions we produce various types of made-to-measure equipment, extraction hoods, work counters, sink units, shelves, storage racks etc and our suppliers are RATIONAL ,WINTERHALTER, ZANUSSI , GICO, ELFRAMO, AFINOX, SIRMAN, EXPO, among many others.
Our Headquarters at Ayia Varvara's industrial area in Paphos , consists of :
·        2500m² factory and technical repairs workspace,
·        1500m²  showroom, administration offices and demo kitchen for live cooking demonstrations,
·        1000m²   for equipment and spare parts storage area .
·         The company also has branch  showrooms in Limassol and Nicosia.
In our company we know very well that by providing a great after sales service is essential for the success of our business. That's why our service team is constantly trained and kept up today for new products, by technicians from our suppliers partners, either in our establishment or by visiting our main offices at below address:
B'INDUSTRIAL AREA (Agia Varvara)
ANASTASEOS STREET NO.15
POST CODE: 8501
P.O.BOX 61379,8133 PAPHOS-CYPRUS
Tel.: 00357-26951426/26938775
Fax.: 00357-269433554
Website: www.zithnet.com
Email: [email protected]